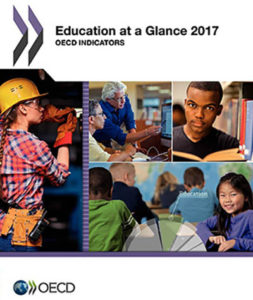 Tertiary enrolment is expanding rapidly, with very strong returns for individuals and taxpayers, but new evidence shows that universities can fail to offer, and individuals fail to pursue, the fields of study that promise the greatest labour market opportunities, according to a new OECD report Education at a Glance 2017
For the first time report includes in-depth analysis of the subjects students take at vocational and tertiary level. It finds that business, administration and law are the most popular careers in countries surveyed, chosen by around one in four students.
This compares to 17% studying engineering, construction and manufacturing, and less than 5% of students studying information and communication technologies or ICT, despite graduates in these subjects having the highest employment rate on average across OECD countries, exceeding 90% in about a third of them.
The report found that 5% of tertiary students study natural sciences, statistics and mathematics. But interest in science, technology, engineering and mathematics or STEM subjects grows with higher levels of education, with almost double the share of students graduating from these fields at doctoral level than in bachelor's level in 2015. 
Overall, adults with a tertiary degree benefit from substantial returns on their investment: they are 10% more likely to be employed, and will earn 56% more on average than adults who only completed upper secondary education, the report says.
This year's edition of Education at a Glance also assesses where OECD and partner countries stand on their way to meeting the Sustainable Development Goals for education by 2030.  For some targets, the disparities across OECD countries are substantial. On average over the past 12 months, OECD and partner countries have achieved gender parity in the participation rate of adults in formal and non-formal education programmes and training.
Spending on primary to tertiary education institutions relative to gross domestic product or GDP reached 6% or more in Canada, Denmark, Iceland, South Korea, New Zealand, Norway, the United Kingdom and the United States.
At the other end of the spectrum were the Czech Republic, Hungary, Indonesia, Luxembourg, the Russian Federation and the Slovak Republic, which spent less than 4% of GDP on education.
Across OECD countries, total public spending on primary to tertiary education averages 11.3% of total government expenditure, ranging in OECD and partner countries from less than 8% in the Czech Republic, Hungary, Italy and the Russian Federation to at least 16% in Brazil, Costa Rica, Indonesia, Mexico, New Zealand and South Africa.