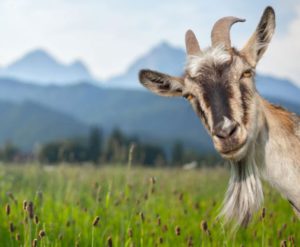 Most academics would agree that it is important for researchers to fully understand their subject matter, and nobody can argue that Thomas Thwaites and Charles Foster have not gone the extra mile to achieve this.
Both men have spent time living as animals in the great outdoors as part of their research for books and have now been rewarded for their diligence by winning one of the Ig Nobel prizes at a ceremony at Harvard University last night.
The biology prize was shared by Dr Foster, a senior research associate at the University of Oxford, and Mr Thwaites, a designer who is not affiliated with a university.
Dr Foster – a qualified barrister and veterinarian – lived in the wild as a badger, otter, fox and bird for his book Being a Beast, published earlier this year. 
Mr Thwaites created prosthetic limb extensions that allowed him to move like a goat and roam the Swiss Alps with the animals.
He says on his website that he wanted to become a goat to "escape the angst inherent in being a human". He wrote a book about the experience called GoatMan: How I Took a Holiday from Being Human.
The awards are a parody of the Nobel prizes and are dished out every year by the Annals of Improbable Research. They are designed to "honour achievements that make people laugh, and then think".
Other winning research projects included one that looked at how trousers affect the sex life of rats, one that studied the personality of rocks and another on whether things look different when people bend over and view them from between their legs.