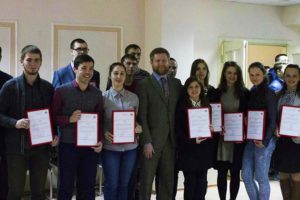 The collaboration between Igor Sikorsky KPI and Huawei is on the high noon. On April, 20, 2017 talented and successful students of Igor Sikorsky KPI were awarded with certificates for personal stipends by one of the biggest Chinese telecommunication companies. The solemn ceremony took place in the building of Center for International Education of Igor Sikorsky KPI.
All the scholarships could be divided into three types. The highest level reward was received by a student of ITC Nataliia Hvozdetska. Anton Kovbytch (RTF), Dariia Lyashko (FEL), Vladyslav Stepanenko (FEL), Oleksandr Melnik (FEL), Vira Rodionova (FPM) and Dmitry Cherkas (IPT) received rewards of the following category. Among students rewarded for academic achievements there were also Dariia Gordeieva (ITS), Konstantyn Makhno (RTF), Oleksandra Smolenska (FEL), Valery Kolesnik (FIOT), Mykola Hramchenko (FIOT) and Kateryna Stetsyuk (IPT).
Sociologists may be interested by the fact 6 out of 13 students appeared to be female students. This might prove that not only male part of the population has a talent for technical sciences.
During the event joining to the scholarship program of TEF was announced as far as Huawei company considers this field of knowledge to be quite perspective. Also professional literature was gifted to The Scientific and Technical Library of Igor Sikorsky KPI. This appears to be the first step to opening of so-called Huawei "Red Corner".
Moreover, several interesting presentations were demonstrated including the ICT impact on the life in 2025, as well as innovative solutions in the field of e-learning. One could also listen to KPI students sharing their positive working experience in the company-partner.
This is the way students' dreams are coming true. Their eagerness and sense of purpose are paving their path to the future.