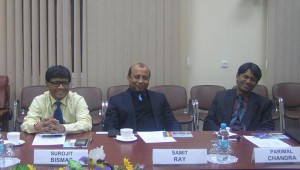 On the November 23, 2015 at NTUU "KPI" university officials met the delegation from the Adamas University Kolkata (Republic of India).
Private university Adamas is located in the city Kolkata, the capital of the Indian state of West Bengal. The University has five faculties: Faculty of Engineering and Technology, Faculty of Science, Faculty of Liberal Arts, Faculty of Law, Faculty of Commerce and Management. The Institute of Technology and the Institute of Teacher Education are belonged to education group of the university as well. Despite its "young" age, the University already has excellent conditions for learning, fruitful scientific work and leisure of students. It is currently engaged in exchanges with universities in other countries to initiate cooperation in scientific and educational spheres.
The Indian University was represented by Chancellor Sumit Ray, Deputy Chancellor Surojit Bismas and Director for International Collaboration Parimal Chandra. The guests was met by First Vice Rector of NTUU "KPI", Member of the National Academy of Sciences of Ukraine Yuriy Yakimenko, Vice-Rector for International Collaboration, Corresponding Member of the National Academy of Sciences of Ukraine Serhiy Sydorenko, Director of the Center for International Education of KPI Professor Vladimir Koval, Director of the Center for Curriculum Professor Boris Tsyganok and Head of the Foreign Economic Activity Office of the Department of International Cooperation of KPI Andrii Shysholin.
The subject of discussion was the issue of potential cooperation between NTUU "KPI" and Adamas University Kolkata. The sides discussed the forms and directions of collaboration, as well as involving of potential partners. The concluding of relevant agreement was planned as the next step of cooperation, in which all the reached understandings will be specified.
At the end of the meeting, the guests visited the exhibition of the State Polytechnic Museum at NTUU "KPI".