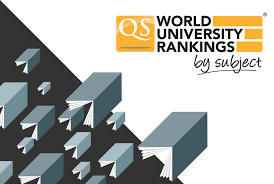 Harvard University and the Massachusetts Institute of Technology or MIT dominate the latest QS World University Rankings by Subject. Harvard came top in 15 subjects and MIT came top in 12.
Oxford is the only other university to come top in more than one subject, increasing its total to four after taking over the lead in archaeology.
According to QS, the new ranking represents the biggest and most comprehensive exercise of its kind yet published, with more than 11,000 individual placings in 46 distinct academic areas. A total of 1,127 universities and colleges from 74 countries were assessed for the new publication.
The ranking shows the overall share of places decreasing for the United States, United Kingdom, Canada and Australia as other nations grow increasingly competitive.
QS said, that subject rankings are becoming more and more influential because students are increasingly seeking more specific guidance and often choose subject before destination. The latest expansion means we are reaching the point now where we cover most of the subjects taken by international students and can be confident about the results.
Universities in Africa, Latin America and the Middle East are absent from the top 10 in almost every subject. South Africa's University of Cape Town is an exception to this rule, finishing 10th for development studies.
Although the US and UK dominate the rankings, Asian universities are moving up. 
China increased its share of top-50 places in subjects, from 58 last year to 78, but only achieved six top 10 places. Four of those were achieved by Tsinghua University and two by Peking. Tsinghua came equal fifth in civil and structural engineering, seventh in electrical and electronic engineering, ninth in materials science and 10th in mechanical, aeronautical and manufacturing engineering, while Peking University came seventh in modern languages and equal 10th in linguistics. Peking took 22 of the top 50 places and Tsinghua 15.
Published annually since 2011, the rankings are based on academic reputation, employer reputation and research impact. As in previous years, the methodology varies with the subject, reflecting differing priorities and the availability of data.