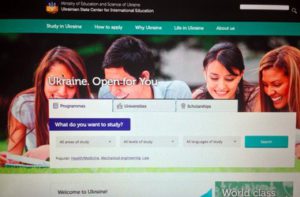 The Ministry of Education of Ukraine presented the new website of the Ukrainian State Centre of International Education, through which foreign students can find information about education in Ukraine, curricula of universities, scholarships and more.
According to Deputy Minister of Education Roman Greba, Center for International Education will play an important role in promoting Ukrainian educational institutions abroad.
"Especially important is the fact that enrolles may apply directly to this state center for matriculation to any university of Ukraine, bypassing intermediaries", – said Roman Greba.
Online information center for foreign students is available in English. The center clame that applicants from other countries can find general information on universities, programs, procedures to obtain the necessary entry and practical advice. In addition, through a web resource entrants can submit online requests for training in the chosen university.