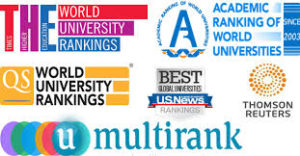 Institutions and governments should ignore the results of highly influential international higher education rankings, the UK's Higher Education Policy Institute has charged. Its urging comes on the back of a report that claims university rankings are based on data that is "unreliable and sometimes worse" and skew too heavily towards research.
The damning report, International university rankings: For good or ill?, identifies significant flaws in the data used to compile international rankings such as the THE World University Rankings, QS World University Rankings, Academic Ranking of World Universities (also known as the Shanghai Rankings) and U-Multirank that it says undermines their validity.
Firstly, there is no way to ensure data is gathered to comparable standards, the research observes: even definitions of full-time members of staff and students vary from country to country.
On top of this, universities supply their own data and there is "no effective effort" on the part of compilers to verify the data, the report asserts, which can result in significant errors.
The report focuses heavily on an additional flaw in the way the three most prominent rankings – THE, QS and ARWU – are compiled, saying their focus on research makes them "essentially unidimensional. "Indeed, what is arguably their most important activity – educating students – is omitted."