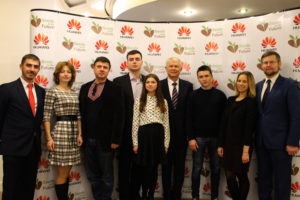 Youth is the future of every country. Students of "KPI" have got an opportunity to "create" the future of Ukraine today by their own hands, thanks to the program "Seeds for the Future" of Huawei – global telecom giant from China. The main goal of the program is providing support of talented young people who are interested in working in high-tech industries. The company Huawei has established this program back in 2008, while the European countries were put in participating from 2011.
The ceremony for the official launch of the program took place in Ukraine. Kyiv, November 4, 2016, with the participation of Ambassador Extraordinary and Plenipotentiary of China to Ukraine Mr. Du Wei and First Deputy Minister of Education and Science of Ukraine V. Kovtunets. Administration NTUU "KPI" was represented by Vice-rector for scientific and pedagogical work P.A. Kirichok, Deputy Vice-rector for International Collaboration K.V. Yudkova, and Head of the Foreign Economic Activity Office A.P. Shisholin.
This year about 30 students was claimed for the program, of which 10 winners were chosen to travel on a two-week training course to China. Lucky winners are delegates from the three Kiev universities, namely NTUU "Kyiv Polytechnic Institute", Taras Shevchenko National University of Kyiv and the Kyiv Mohyla Academy. Four students of NTUU "KPI" will get acquainted with modern trends in the development of Internet applications for mobile devices, networking and cloud technologies and other advanced achievements in the field of ICT. In future, it is planned that Ukrainian youth will be involved in the program annually, given the mutually beneficial cooperation between Ukraine and China in the field of education.
As for the continuation of the event, we are waiting for details of the success story from the first persons – the direct participants of the program, talented students of NTUU "KPI".
A short photo-report of the ceremony can be viewed here.