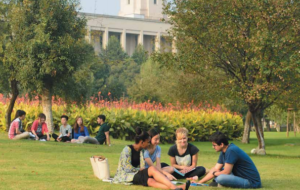 The number of international branch campuses operating worldwide hit 249 in 2015 after more than a decade of steady growth, research from the Observatory on Borderless Higher Education has shown. China has overtaken the UAE as the country hosting the largest number of IBCs, while the overseas expansion of US and European institutions is driving growth.
An international branch campus is defined in the report as an entity that is wholly or partly owned by a foreign education provider, operated in its name and providing an entire academic programme leading to a degree awarded by that provider.
"IBCs may not be the most common form of cross-border higher education, but they are among the most ambitious and embody the greatest potential for institutional transformation," OBHE's chair, Drummond Bone, wrote in the report's foreword.
China now leads the pack with 32 IBCs, just ahead of the UAE, with 31. Singapore (12), Malaysia (12) and Qatar (11) make up the rest of the top five, which together host more than a third of the world's international branch campuses.
The main reason China has overtaken UAE is the sheer size of the former market compared to the latter, and effective IBC saturation in the UAE.
The US, UK, Russia, France and Australia are the home countries most engaged in opening up IBCs overseas, making up almost three-quarters of the total number worldwide.