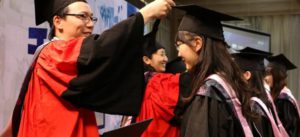 A UN convention, which will facilitate mutual recognition of qualifications in Asia Pacific countries, has come into effect and inspired hopes for a boost to students and staff mobility in the region.
Known as the Tokyo Convention, the agreement took effect on February 1, 2018, after Japan and South Korea joined Australia, New Zealand and China in ratifying the treaty.
It will provide a framework for the mutual recognition of higher education qualifications through increased information sharing and transparency, taking into account various aspects such as grading procedures and quality assurance schemes.
 "This legal instrument is the foundation for promoting fair and transparent practices in cross-border mobility and recognition across formal and non-formal learning in Asia and the Pacific," head of UNESCO Bangkok's Section for Educational Innovation and Skills Development Libing Wang said.
"The ratification of the Tokyo Convention will benefit all Australian higher education graduates, both domestic and international, by providing greater opportunities to work or study across the Asia-Pacific region," said Australian minister for education and training, Simon Birmingham.
Birmingham added that the new agreement would further strengthen education cooperation and cultural ties between Australia and some of its most important education and economic partners and encouraged other countries in the region to sign on to the convention.