On September, 4th, 2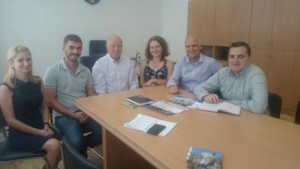 015, the working meeting was held where the questions relating practical implementation of the project about cooperation with Nigerian Institute of Science and Technology were discussed. NTUU "KPI" was represented by director of the Center for International Education A. Koval, head of the Foreign economic activities office of the Department International Collaboration Department A. Shysholin, deputy chief K. Yudkova. The position of the Institute of Science and Technology was represented by the Director for International Cooperation I. Derevyanko.
On the meeting's agenda there was the organization of a joint remote preparatory department on the basis of the Nigerian Institute. The discussion resulted in a number of agreements in part of the project organizational and administrative aspects as well as in creating a common course of further actions.