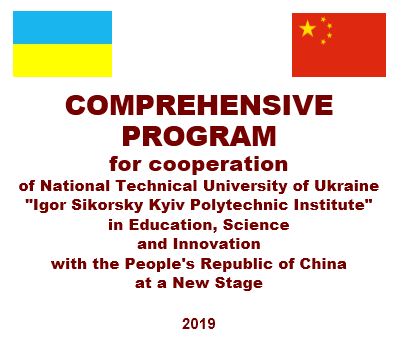 History of cooperation between Igor Sikorsky KPI and his Chinese partners exstends back several decades, and demonstrate significant achievements. Our university has several joint projects, both educational and scientific – centers, laboratories, joint curricula, patents, research, and more.
At the same time, there are prospects for the development of partnership given the rate of introduction of new knowledge and technologies both in Ukraine and in China. Therefore, one of the key tasks of the Foreign Economic Activity Office is to support and develop cooperation between Igor Sikorsky KPI and leading academic institutions, companies, governments of China.
Igor Sikorsky KPI is considering proposals to create joint structures with several world-renowned universities and world technology and business leaders from China – innovation funds, joint laboratories, and business incubators. Several promising projects are implemented at the state level. Cooperation with the State Scholarship Council of the People's Republic of China, the Confucius Institute, the Union for International Cooperation with the CIS countries, the Academies of Sciences of some provinces, and municipalities continues.
Today, the university develops retraining programs for specialists from Chinese companies, trains specialists in joint educational programs together with higher education institutions in China, conducts joint research, in particular, in space with the assistance of the China National Space Administration and the State Space Agency of Ukraine. Cooperation on research and new developments in the field of materials science and welding is important – Memoranda of Understanding has already been signed to carry out research work with several companies. There are agreements on the exchange of teachers, graduate students, and students and on conducting joint research.
The issue of the use of intellectual property based on the results of joint educational, scientific, and innovative activities will be regulated by the national legislation of both the countries and based on bilateral agreements between the participants of joint projects.
Among the active partners there are:
Harbin Institute of Technology
Wuhan University of Science and Technology
Jilin Institute of Chemical Technology
Liaoning University of Traditional Chinese Medicine
Civil Aviation University of China
Beijing University of Technology
Shenzhen Institutes of Advanced Technology
Central China Normal University
Guangzhou Industrial Technology Research Institute Chinese Academy of Sciences
Guangzhou Railway Polytechnic
Zhejiang University of Technology
Quanzhou Institute of Information Engineering
Shenzhen Technology University
Tianyuan University in Tianjin
Shandong University of Science and Technology
Northwestern Polytechnical University
Guangdong Science and Research Institute of Industry Technology
Dalian Institute of Measurement and Control Technology
Institute of Oceanographic Instrumentation
International Research Laboratory of Optoelectronics & Information Technology of Zhejiang Province
Guangzhou Municipal Science and Technology Bureau
Polytechnic Institute of Sanya University