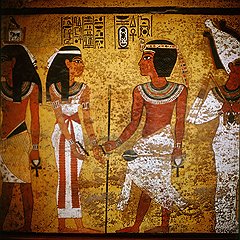 Egypt's universities launch UK partnerships. Egyptian government also provides details of higher education reforms. Universities in the UK and Egypt have signed 10 partnership agreements aimed at building scientific research and increasing opportunities for student and staff exchanges.
Each of these partnerships would last at least three years and there is a target for 20 more agreements to be signed between UK and Egyptian universities in the next two years. These collaborations could include dual degrees, research work, student and staff exchanges and curriculum development.
Three major projects will begin in Egypt this year with a view to implementation in 2019, as part of the country's higher education reforms. These include the introduction of a funding and regulatory agency based on the Higher Education Funding Council for England; a national centre for assessment and evaluation based on the assessment agency at the University of Cambridge; and a training centre for leadership at Egyptian universities, modelled on the Leadership Training Centre in the UK.
UK higher education system is a suitable model because it has implemented "tremendous change and reform" in the past 20 years, something that Egypt can mirror in its own development. He added that while English is generally the second language in Egypt after Arabic, it is the "first language" at universities, meaning it is easy for academics in the two countries to collaborate.