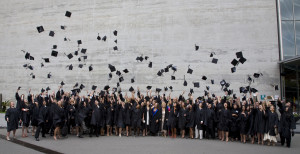 Politicians and policy-makers have been putting pressure on universities, insisting on relevance of both research and teaching. They argue that universities must respond better to national economic and social needs in their research; and to the labor market by turning out employable students.
This dual role of universities is a juggling act for any successful higher education system. How national systems can ensure 'relevance' will be debated by global education leaders at the British Council's Going Global 2016 conference in Cape Town, South Africa, to be held on 3-5 May.
Relevance has also become important in curriculum design and teaching, in order to prepare students for the labor market. This often requires other skills – so-called soft skills – in addition to the academic, technical and analytical skills traditionally imparted by universities.
However, making graduates employable goes beyond even academic knowledge and soft skills. So far there are no specific indicators for employability that measure it in any useful way. It is not fair to ask a university to be accountable for their graduates' employment rates, as so many other factors dictate this, such as quality of entrance and the condition of the economy.
Graduates these days have to be prepared for different types of situations, several career changes in their lifetime and they will have to expect to continue to work throughout their working lives.