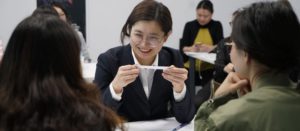 The British Council has started teaching an initial cohort of learners at its first English centre in China. The school, located in Nanjing, enables further development of ties between Jiangsu province and the UK, according to directors.
"The launch of an English centre in Nanjing marks not only the beginning of a new chapter in the British Council's long history of engagement with Jiangsu province, but also a new milestone in the bilateral relationship between the UK and China," said Carma Elliot CMG OBE, the British Council's country director in China.
The British Council operates in China as the cultural and education section of the British Embassy and consulates-general in Beijing, Shanghai, Guangzhou, Chongqing and Wuhan.
The launch of its teaching centre creates a formal base in Jiangsu province. Lessons at the school include the British Council's flexible myClass program and a series of social activities are available for adult learners.
"Our analysis of the market indicated that there is great market demand and potential, particularly in Nanjing," Kiran Patel, Director of Strategic Communications and Corporate Relations for the British Council told.