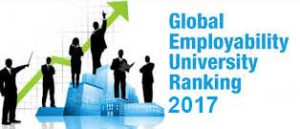 Higher education institutions in the United Kingdom have tumbled in Times Higher Education just-published Global University Employability Ranking, while Asian universities – specifically in mainland China, Taiwan and South Korea – have made significant strides in respectability.
Every UK university dropped positions in THE's seventh annual employability ranking, published on 16 November, raising concerns that withdrawal from the European Union is affecting Britain's global reputation.
Globally, United States institutions claimed seven of the top 10 places with the California Institute of Technology retaining its leading position, followed by Harvard University, Columbia University, and the Massachusetts Institute of Technology in fourth position
There are 33 countries in the top 150 list, with America featuring 35 universities followed by France with 12, Germany with 11 and Britain with 10. Thereafter come China and Switzerland with seven institutions each; Canada with six; Australia, Japan and the Netherlands with five; and Hong Kong, South Korea, Sweden and Taiwan with four.
The ranking was established via an online survey of 2,500 recruitment managers in 22 countries and a second international panel of 3,500 managers. Participating companies represented a cross-section of major business sectors.
UK universities had taken "a severe knock" in ranking and questions would be raised about whether Brexit was tarnishing the image of the country's universities in the eyes of global recruiters. The UK's general decline in ranking had been happening for some time – a product of the rise of Asian universities, a traditional weakness in UK institutions' links with industry and the widespread growth of English usage – thus removing the UK's natural competitive advantage.
The conclusion is very simple: UK needs to avoid the country becoming isolated on the world stage.