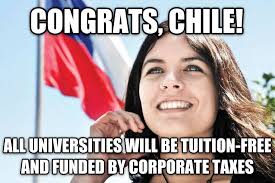 Desember 25, 2015. SANTIAGO, Chile. Four years after Chilean students began protesting en masse in search of a free, quality university education, President Michelle Bachelet signed a decree that will grant just that to hundreds of thousands of students in a move that fulfills one of her election campaign promises.
"We have made good on the promises we made and the words we spoke to the students and their families. It has not been easy, but thankfully common sense has prevailed," she said just after she signed the decree national television shortly after the bill was approved by both houses of Congress.
Specifically, per Bachelet's announcement, the deal reached in Congress on educational reform will free up enough funds in 2016 for just under 200,000 students to attend university free of charge, a figure that corresponds to nearly 30 percent of all university students in the country. The students that are the most economically disadvantaged will be the first to benefit from the law. The development comes just in time as thousands of students will file their applications to attend schools on December 27.
From 2016, that figure will increase over the years and by 2018, when Bachelet's four-year mandate is set to end (March), her government says that it will have 70 percent of students covered for free higher education. Finally, by 2020, the coverage for free university education is expected to become universal.
Potential students will now be able to choose from the 25 different universities (16 state schools and 9 private schools) that belong to the Council of Rectors of Chilean Universities (CRUCH), an elite group that is composed of universities in Chile that have the most prominence and tradition. More universities, however, are expected to join the list in the future.
Furthermore, students will also be covered while attending not only universities but also professional institutes, vocational academies and technical schools, both public and private.
 "The fight for free, high-quality education has been given a big boost today, but it is merely one development and not the end by any means. We will continue pushing forward in the coming years so that Chile will eventually have a truly inclusive educational system, one where an individual's intelligence and work will have the final say in their education and not the size of their family's bank account," Bachelet concluded.