Chinese students with gaokao test scores can apply to world-class universities in more than 20 countries and regions and secure admission after an inter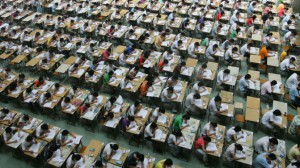 view, bypassing TOEFL and SAT exams.
"TOEFL and SAT scores can be improved in a short time, but Chinese gaokao can examine students' knowledge base after long-time study," said Stanley Nail, deputy director of the University of San Francisco.
Gaokao is the National Higher Education Entrance Examination which is taken in 2-3 days. The list of compulsory subjects for passing includes Chinese, Mathematics and foreign language which is usually English but can also be Japanese, Russian or French. The block of possible subjects for passing is formed with 7 disciplines: Physics, Chemistry, Biology, Technology, History, Geography and Political science.
Nowadays gaokao can give an international education ticket to the students who decided to study abroad. The first country which accepted the results of the unified Chinese national examination was Australia, later followed by Canada. Now many well-known universities of Australia (University of Sydney, Australian national University and Monash University) will include gaokao in the standards of admission.
Illinois Institute of Technology was the first American university to accept entrants with gaokao scores. Today the University of San Francisco also sets enrollees only on the basis of interview and gaokao test.
Most colleges in South Korea, Singapore and Canada also follow the trend, while some European countries, such as Germany, have stricter criteria requiring scores to meet.
Up to 135 universities in Taiwan admitted mainland students with gaokao scores last year, while all eight universities in Hong Kong and six in Macao accept the scores.
Successful meeting gaokao scores opens great opportunities but requires serious and diligent preparation of students as well as a strict control of alert examiners. The last of the mentioned requirements is gained with the help of technological innovations such as flying drones that capture all violations by intercepting the signal, in case someone decides to use the earpieces.
Information sources:
http://www.regnum.ru/news/cultura/1931560.html
http://sinocom.ru/blog/gaokao-otkryvaet-dveri-zarubezhnyx-universitetov/