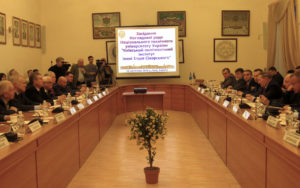 The meeting of the Supervisory Board of the NTUU "KPI" took place on the November 15, 2016.
The following persons have participated in the meeting: Chairman of the Supervisory Board, the President of Ukraine in 1994-2004 Leonid Kuchma; Deputy Chairman of the Supervisory Board, People's Deputy of Ukraine in several convocations, President of the Small Academy of Sciences of Ukraine, member of the National Academy of Sciences of Ukraine Stanislav Dovgyi; first astronaut of independent Ukraine Leonid Kadeniuk; People's Deputy of Ukraine, First Deputy Chairman of the Committee of Verkhovna Rada of Ukraine on Construction, Urban Development and Housing Dmitro Andrievsky; Deputy Chairman of the Government Agency for Science, Innovation and Informatization of Ukraine Viktor Ivchenko; Chairman of the Board of OJSC "Meridian" n. S.P. Korolev Vyacheslav Protsenko and others.
NYUU "KPI" was represented by Rector, academician of NASU Mikhailo Zgurovsky; first Pro-Rector, academician of NASU Yuriy Yakimenko, Pro-Rector for Scientific Work, academician of NASU Mykhailo Ilchenko, Pro-Rector for Perspective Development Olexiy Novikov, Vice-Rector for International Collaboration, a corresponding member of NASU Sergii Sidorenko, Vice-Rector for Teaching and Educational Work Petro Kirichok , deans of faculties, and directors of institutes.
The meeting was opened by President Leonid Kuchma. Rector Michailo Zgurovsky delivered a speech on the results of the V Ukrainian festival of innovative projects "SIKORSKY CHALLENGE 2016". Further, Leonid Kuchma presented the honorary awards "Winner of Festival" from the  Presidential Fund of Leonid Kuchma "Ukraine" to  seven young innovators from across the Ukraine and was photographed with them in memory.
The main issue of the meeting was the innovation strategy of the university. A meaningful report on this topic for the respected participants was presented by rector of the NTUU "KPI" Michailo Zgurovsky. He stressed that innovation activity is an integral part of a modern university, along with the educational process and scientific research. Michailo Zgurovsky told about the study of international experience in this area, the history of creation of the corporation "Science Park "Kyivska Polytechnica" and innovation ecosystem "Sikorsky Challenge" by the university in their own scientific and methodological basis and the launch of the project "Polyteco Science City" in 2015. He elaborated on the cooperation of science and business, the results and future prospects.
The members of the Supervisory Board, invited guests, and vice-rectors of NTUU "KPI" have been actively discussed the report. Particular attention was paid to the implementation of innovative inventions, university collaboration with investors and industrial companies. Taking account of the current economic crisis, innovation is a powerful driving force for our country and the opportunity for universities to obtain additional financing and maintain scientific and human resources.