On the 19-20th of September in the Center of Culture and Arts of NTUU "KPI" the Urban Tech exhibition will take place. It will present technological solutions, social and investment projects for the development of the city. The exhibition will be held in the framework of the Second Kiev Urban Fest (KUF2).
The exhibition "Technologies and Solutions" is a platform of effective business projects, tools and technologies which develop cities: infrastructure, IT, environmental, energy and so forth.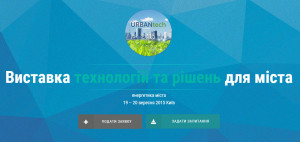 Urban Tech – a meeting place for developers, IT experts and experts of energy-saving, eco-friendly transport, infrastructure development, media communications, housing, environment, architecture, urbanism, representatives of municipalities of Ukraine, producers and citizens.
Thematic blocks of the exhibition:
– Technologies and solutions for planning and city management
– Technologies and solutions for the urban energy
– Technology and solutions in urban construction
– Technologies and Solutions for Utilities
– Technologies of purification and recycling
– Technologies city transport and logistics
In addition to the exhibition at the festival conference KUF2 WISE CITY, development of the city through dialogue, mobile city, warm city will be held. In general 12 directions of the city development will be presented.