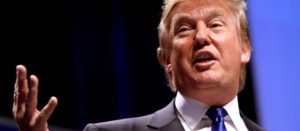 The Trump administration's new National Security Strategy will consider restricting international students from certain designated countries who wish to study STEM subjects in the US in order to prevent technology transfer and intellectual property theft.
The NSS document issued by the White House reiterated the administration's commitment to the increased vetting of foreign nationals by continuing to "review visa procedures to reduce economic theft by nontraditional intelligence collectors".
While no further details on which countries would be designated for restrictions, China was cited as a country that "steals US intellectual property valued at hundreds of billions of dollars" every year in the document.
The NFAP study found 81% of the country's full-time graduate students in electrical engineering and 79% in computer science are international students, with NFAP executive director Stuart Anderson adding that international students are "key" to the country's future in science Speaking to The PIE News, Anderson said the new restrictions will have a"chilling effect" on applications to US universities and will push hiring of highly skilled individuals in tech fields outside of the US.
"There is a significant risk that any proposal would do far more economic harm to America than the problem it seeks to solve," he added.