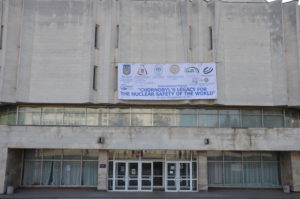 On the April 22, 2016 a really huge event took place at the NTUU "KPI" – Forum "Chernobyl's Legacy for the Nuclear Safety of the World." The event was outstanding in every sense: from the affected deeply relevant themes and ambition goals to a wide range of international participants. Ambassadors of foreign countries, members of diplomatic missions, well-known politicians, people's deputies of Ukraine, the liquidators of the Chernobyl disaster, outstanding scientists and experts-professionals on nuclear energy, ecology, radiobiology and radiation medicine have met at the Center for Culture and Arts "KPI", to pay tribute respect for human heroism, to exchange experiences and latest achievements, ideas and solutions for the development of Chernobyl and other similar objects.
This scale of the event have required an appropriate level of involved organizational support and internal resources. And of course, similar to all the events taking place at the University, the Forum took place thanks to active participation and volunteer assistance of the best students of KPI. They are really the best: responsible, organized, intelligent and well brought-up young people with a great sense of humor, an unusual outlook on life and just extreme endurance.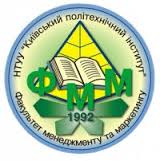 Special gratitude our office extends to students of the Faculty of Management and Marketing (FMM) not only for the great help, but also for the unforgettable emotions from communication: guys, YOU are  the best! One of the most important tasks was assigned on you – meeting and accompanying foreign guests that YOU made at the highest level, receiving dozens of oral and written thanks from our guests.
And what the students think, the organizers and participants of the Forum? A bit of feedback from FMM.
About the Forum: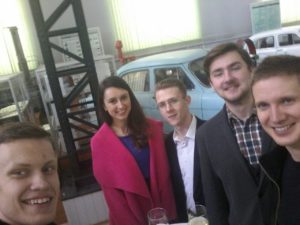 "… this is a unique world that has opened up new opportunities for me, helped to meet new friends, made a part of something important, and it can not be forgotten !!! Thank you all! " (Severin Nikita).
 "… this is a major event not only for me, KPI, Ukraine, but also for the whole world. I am proud to be a part of such an event! "(Domasheva Elizaveta).
"About the forum I can say that I'm glad I was lucky enough to take part in this event, because I have found new friends both among the students (I've worked with), and among the foreign visitors. Time passed quickly: we were constantly in the work"(Eugene Naumenko).
"These three days have been for me a real marathon, but even after two weeks with the same smile on my face I remember lived moments, because they were really cool. Now I'm more eager to participate in such activities, since they open me to the other side and make it possible to gain new acquaintances"(Angelina Lavrova).
"In general, the forum has made a positive impression. First, communication with native speakers from other countries is quite useful for improving knowledge of foreign languages. Second, the acquaintance of qualified, persons of high standing, and people among the first around the world. I am grateful for the opportunity to get a valuable experience "(Natalia Oblavatskaya)
About the participants: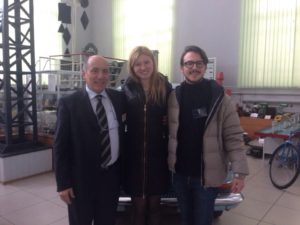 "You see, that global problems are solving, and you, in turn, are present at all this. Back in school we talked about the intelligentsia, of all those who should be at the top of the world. I could not imagine that I will be able to communicate not so much, but just to be close to such outstanding people. Incredibly it was easy to maintain a conversation, to share impressions, to exchange emotions and at the same time, like a sponge to soak up life lessons and truths. At such moments, you realize: "Yes, these people can make the world better, to make life, well, happier!". This is not a rant, it is a reality. I am proud that the KPI opens up new horizons for the students. Thank you all!".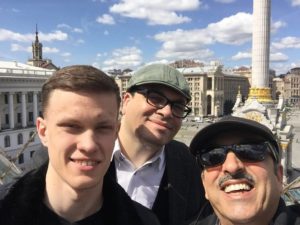 "With regard to my guests (the delegation of Kuwait) I can say that despite the fact that this is a very high-ranking and distinguished guests, it was easy and pleasant to work with them. In addition, it was a great opportunity for English conversational practice. In conclusion, I can say I was pleased to work in a team and I look forward once again to take part in such events" (Eugene Naumenko).
"It's just indescribably when you are sitting surrounded by serious people who have got a sucsess in profession. And at that moment you think, well then, they are serious – but in fact it turns out that they also like to joke and have fun. And it makes the situation even cooler" (Angelina Lavrova).
Chronology of events:
"Day 1 – Airport. Everything began to spin like a squirrel cage: we arrived at the airport. For me it was already this informative since I first visited in Borispol. We had to wait a long time, my foreign guest had to arrive around 17.00. Thanks to the organizers, who provided us with tasty food, it reminded me of a summer camp in in school, straight nostalgia swept. While waiting, the boys had time to discuss everything from movies and finishing the course work – what else did you expect. Seeing the first foreigners who have already met my boys, it was very interesting, how my guests looks?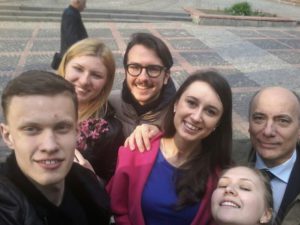 I hoped they should be the serious people. I decided to google the last name, to know my guests looks like. To help you understand, at first I've got from Google some kind of crime boss, and then an elderly professor with glasses. I tuned to the desired type, standing with a sign, waiting … When suddenly fit young man of 25 years and says I'm Francesco Pesce, hello. And then I realized that life is really full of surprises. After the meeting, I helped him to check into hotel, we exchanged contacts to agree on an excursion to Chernobyl.
Day 2 – Excursion to Chernobyl. Probably, in the villages near Kiev has not yet awakened roosters, when I began to gather, to meet the Italian guests on a bus tour to Chernobyl. In fact, Francesco happened to be organized and punctual, and was waiting for me on the spot. After meeting the guests after a tour, we spent them on the buffet table, where they had a possibility to share their impressions.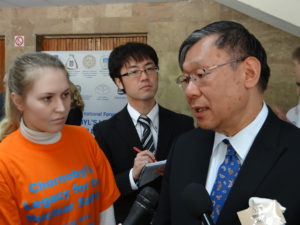 Day 3 – Catch on the forum. On this day, I managed to sleep a little more, woke up only later roosters. Today we saw off visitors to the forum, where they are for the whole day listening to speeches and presentations of other participants. On the main day of the forum organizers hired me to assist one more charming guest from Italy, who was welcomed with my pleasure . Giovanni – the person who discharged the situation for his sense of humor and an unusual energy, joy, so that it is absolutely impossible to be bored "(Angelina Lavrova).
And instead of conclusion: "What in general I want to say? MANY THANKS to the organizers for this opportunity. Here it happens, live in normal university life from class to class, and suddenly at one moment you were told that it is necessary to come to the dean's office, because there is a "serious conversation." And you think, "Well, here's another … again forced assignment," but in fact it turns out that you had the unique opportunity for three days to be completely fallen out of reality, to be in a totally different atmosphere with various interesting people "(Angelina Lavrova).