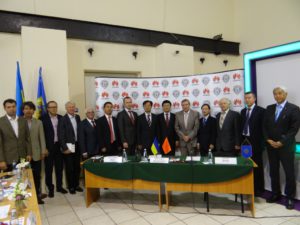 On the September 14, 2016 staff and students of the National Technical University of Ukraine "KPI" witnessed extraordinary events of significance – the signing of the Memorandum of Understanding between the KPI and the company "Huawei Ukraine LLC". To appreciate the level of this phenomenon, it is worth noting that the Chinese company Huawei – manufacturer of networking and communications equipment – is one of the undoubted  world leaders in information communication technology. The Memorandum was signed by general manager of "Huawei Ukraine" Zhou Haojie, rector of  "Igor Sikorsky KPI" academician of the NAS of Ukraine Mikhailo Zgurovsky and director general of Science Park "Kyivska Polytechnica" Volodymyr Gnat. KPI for the first time enters negotiates an agreement with a such high level company.
The signed Memorandum defines the basic principles of cooperation in three key areas – education, science and innovations:
Scholarships to the best KPI students, taking into account their achievements in training and research work

Internships opportunity in Huawei Ukraine

"Seeds for the future" program

Creating of Huawei Lab at KPI

Organization of joint scientific-practical conferences

Joint scientific publications in Ukraine and abroad

Implementation of joint innovative projects

Joint research projects for commercialization of accumulated knowledge, technology and equipment
This is only the first step, now KPI should move forward and fully use the opportunity of cooperation with such a powerful partner. We are fully support the Huawei company motto: "Make it Possible!" Work is just beginning.
Huawei in figures:
 – Huawei solutions and products include 3 directions:
Information distribution and presentation: smartphones, tablets, mobile devices and home Internet;
Serving global carriers: mobile networks, fixed networks, carrier software and core networks, enterprise networks, M2M connections, management platforms;
High-value industries: data centers infrastructure, big data analytical platforms, cloud services
– Huawei products use 45 of the top 50 mobile operators in the world (77% of the market)
– Huawei equipment serves 1/3 of world population
– The company is a world leader in the development of 5G telephony
– 228 place in FORTUNE GLOBAL 500 and 1st place in the segment *
– 50 th place in the ranking of most valuable brands in the world *
– 176 000 employees – including 79 000 employed in research *
– Annual sales revenue USD 60,8 * bn., 10% is allocated to research
– Annual revenue USD 4,5 bn *.
– 50 000+ patents *
– Participant of 300+ standardization organizations, 43 000+submitted proposals  *
– 100+ worldwide branches
– 16 research centers in different countries *
– 36 joint innovation centers *
– Cooperation with 70+ universities
– More than 10 000 students were trained in ICT with the support of Huawei
– 45+ training centers and labs around the world
* as for 2015