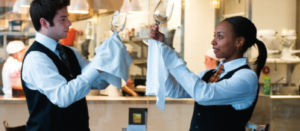 The last annual report of the UNWTO crunched some serious numbers about increased global tourism. One in 11 jobs are in travel and tourism, and this is projected to rise to one in every 10 by 2023 – an increase of around 80 million posts.
Clearly, it's a boom time for the sector and, consequently, hospitality schools are taking in students from an ever wider range of countries, with many schools reporting intakes originating from over 100 different nations
At the same time, hospitality management courses are prized even more highly because well established companies like JP Morgan, Bloomberg, Disneyland and Louis Vuitton are frequently recruiting internationally-oriented future managers from them.
The tourism and hospitality landscape is a fast-moving one: sustainability-aware, highly competitive (both in terms of recruitment and between industry players), and acutely challenged by managing big data to service customers who expect to be able to use technology for seamless and tailored travel. 
Les Roches Global Hospitality Education has pioneered a number of courses to tackle and anticipate the biggest challenges facing the sector. It hosts 90 nationalities with a significant 97% international student body.
In the US particularly, international students are attracted to Optional Practical Training programme.
International students completing a degree programme are eligible to be employed for a period of one year. They successfully work in the US and then leverage that experience in their home country or other places in the world.